Why Volunteer with the Foundation of Goodness?
The Foundation of Goodness (FoG) has a robust, exible volunteer program that has been welcoming volunteers from around the world for 20 years. We offer a flexible, impact based programme that best fits our beneficiaries and volunteers. What we hope to achieve through the volunteer programme is the sharing of knowledge and skills with rural Sri Lankans and the enrichment of our volunteers through the work they do at the Foundation.
Location!
Your volunteer time will be spent against the backdrop of the stunning South
Coast of Sri Lanka at our flagship centre in Seenigama.

Who is it for?
We welcome applications for our volunteering programmes from all.
Our customised or skills-based volunteering programmes are suitable for individuals ( eg: students, professionals, tourists, retired individuals and etc. ) an seniors who are retired, university/high school/middle school students and etc.)
What do you gain by volunteering at the Foundation of Goodness?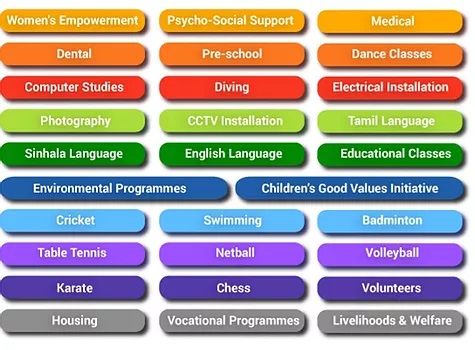 A volunteer programme to suit your needs
Over the past 20 years the FoG has had the privilege to work with volunteers from around the world. We offer customised or skills-based volunteering programmes to ensure that each programme is catered to the needs of the individual and group.
We have an extensive range of rural community empowerment activities that you can choose to be a part of. Volunteering at FoG will give you the opportunity to bring much-need skills to areas as diverse as sport, health, education, children's well-being and more, directly benefiting people in the area who are disadvantaged by poverty and lack of opportunities